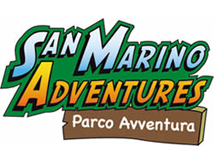 San Marino Adventures
Strada Monte Cerreto,
47890 Republic of San Marino, RSM
Tel. 335 73 44 140
info@sanmarinoadventures.sm

Registered Office: Via Napoleone Bonaparte, 111

San Marino Adventures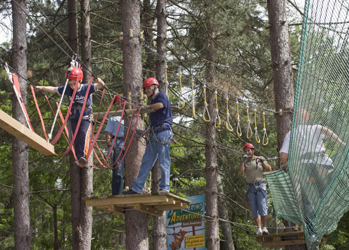 San Marino Adventures is an amazing fun opportunity for all tourists flocking to the Riviera Romagnola. It is situated 20 minutes far from Rimini, 15 minutes far from the tollgate of A14 Motorway and less than 5 minutes far from the beautiful medieval centre of San Marino. Surrounded by a lush pinewood forest, San Marino Adventures gives visitors the possibility to spend amazing moments amidst high trees, suspension bridges, ropes, poles and further attractions.

San Marino Adventures is subdivided into 14 paths for children, young people and adults, and gathers a splendid picnic area, a bar and a restaurant. It is surrounded by enchanting itineraries which give visitors the possibility to go for pleasant walks across the nearby protected area of the Park of Mount Cerreto. San Marino Adventures is able to suit even the most demanding requirements of both sportsmen and the lovers of nature and open-air activities

Skilled employees provide assistance and support, as well as proper helmets,spring catches and slings that give visitors the possibility to visit the park in total safety. San Marino Adventures boosts environmental protection while safeguarding its trees and vegetation. Both families and groups of friends who spend their holidays along the Riviera will have the possibility to enjoy pleasant moments here while experiencing a closer touch with nature. Let's have a look at the major attractions of the park…
San Marino Adventures' Paths
San Marino Adventures gathers different paths that are able to suit even the most demanding requirements of different types of visitors. It gathers five children's paths, nine paths for young people and adults, a large children's playground, a paramilitary path and a ten-metre high climbing wall. The most famous attractions are the sixteen-metre high Inferno black path and Panoramica path, which also includes a 130-metre long pulley.
The park's paths are subdivided according to their difficulty level, the hardest ones being dedicated to expert sportsmen. The easiest one is Baby Orsetto, which gathers safe attractions for children. Further paths for both children and young people are Indiana Jones, Asset Banca, Titano and Bis Alfa Romeo Experience, that gather rope bridges, pulleys, poles, trapper bridges and many more.
San Marino Adventures' paths for adults, which cover the widest surface of the park, are the ideal solution for the lovers of nature. The popular Ninla, Adrenalina and Avventura gather Tibetan, Nepalese, suspension and rope bridges, as well as plenty of exciting ropes, poles and pulleys. Not to be missed are Lost, the reproduction of a real Marine Corpse training, and K2 Climbing Wall, which gives the lovers of free climbing the possibility to perform their favourite activity. San Marino Adventures' most impressive rock spur is Incubo, a very challenging path which should by covered by expert sportsmen only.

Most visited resorts
Rep. San Marino
Geographical Search
Search your hotel
Weather in Romagna
Real-time weather forecast
NEWSLETTER
Join our Newsletter to receive special proposals and last minute offers for your holidays!