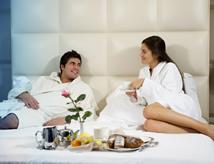 All inclusive
For a worry-free and stress-free vacation your best bet is to book an all-inclusive stay. The offers below are offered by all those hotels of the Romagna Riviera that have these types of plans and typically include all services in an all-inclusive package. From hotel accommodation with meals and drinks, to beach services, every facility has different all inclusive vacations by customizing services and offers.

Filter offers:
JULY 2018 TO THE SEA OF RICCIONE IN HOTEL 3 STARS WITH FAMILY PLANS AND AQUATIC PARK INCLUDED " July with the good that I want to see you will not end. July made me a promise love will bring. You too, by the sea ... come, there is so...

NIGHT ROSE 2018 IN RICCIONE IN HOTEL 3 STARS OFFER WITH CHILDREN FREE AND WATER PARK INCLUDED Spend the Pink Night 2018 in Riccione .... The New Year's Eve in the Riviera! A unique opportunity for those who want to experience the true festive...
Most visited resorts
Rep. San Marino
Geographical Search
Search your hotel
Weather in Romagna
Real-time weather forecast
NEWSLETTER
Join our Newsletter to receive special proposals and last minute offers for your holidays!