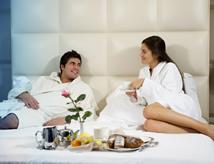 All inclusive
For a worry-free and stress-free vacation your best bet is to book an all-inclusive stay. The offers below are offered by all those hotels of the Romagna Riviera that have these types of plans and typically include all services in an all-inclusive package. From hotel accommodation with meals and drinks, to beach services, every facility has different all inclusive vacations by customizing services and offers.

Filter offers:
Most visited resorts
Rep. San Marino
Geographical Search
Search your hotel
Weather in Romagna
Real-time weather forecast
NEWSLETTER
Join our Newsletter to receive special proposals and last minute offers for your holidays!