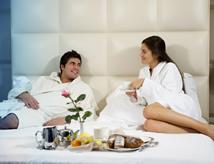 All inclusive
For a worry-free and stress-free vacation your best bet is to book an all-inclusive stay. The offers below are offered by all those hotels of the Romagna Riviera that have these types of plans and typically include all services in an all-inclusive package. From hotel accommodation with meals and drinks, to beach services, every facility has different all inclusive vacations by customizing services and offers.

Filter offers:
End of August at the seaside, the month of relaxation, schools are about to begin, but at Villa del Parco we give you the last precious moments of summer starting from € 85.00 3 star hotel 60 meters from the beach we offer you the All...
Most visited resorts
Rep. San Marino
Geographical Search
Search your hotel
Weather in Romagna
Real-time weather forecast
NEWSLETTER
Join our Newsletter to receive special proposals and last minute offers for your holidays!