Italia in Miniatura
Via Popilia, 239
47922 Viserba di Rimini (RN)

Tel. 0541 736736
Fax 0541 732203
info@italiainminiatura.com

Italia in Miniatura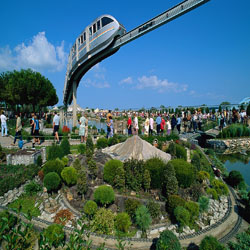 Italia In Miniatura is one of the historical theme parks of the Riviera Romagnola. Situated in Viserba di Rimini, it is known all over Europe for its funny originality. It gives guests the possibility to admire outstanding scale reproductions of the major Italian monuments, artistic masterpieces and naturalistic beauties.
The wonderful scale reproductions of the major monuments of the Italian peninsula are artistic masterpieces of great value. Visitors will have the possibility to admire the Colosseum, Milan's Duomo, the Roman Basilica of St. Peter, Venice's St. Mark's Basilica and further outstanding monuments and buildings. Some time ago, Italia in Miniatura also inaugurated a new section just behind the Alps: the so-called Miniature Europe gathers the most representative monuments of Greek, Spain, Austria and England.
Those flocking to the Riviera Romagnola won't miss the opportunity to visit Italia In Miniatura and browse around this legendary place that is scattered with exciting games and attractions. Let's have a look at the major attractions of the park…
Italia in Miniatura's Attractions
Italia in Miniatura's major attractions distribute around the outstanding reproductions of the most important monuments of the Italian peninsula. The so-called Monorotaia Arcobaleno (Rainbow's Monorail) runs along the whole park, and gives tourists the possibility to enjoy breathtaking views over the monuments. The snowcapped peaks of the Alps, that rise a short distance from Miniature Europe, are backed by a high Panoramic Tower that boasts sweeping views over the underlying attractions.
Cannonacqua is an impressive medieval castle whose towers and merlons are provided with powerful water cannons; Canoe is an exciting itinerary including steep inclines and breahtaking descents to be covered onboard special canoes; Sling Shot, the most extreme experience of the park, is the ideal attraction for the most daring ones; the Small Prehistoric Valley gathers outstanding reproductions of dinosaurs and ancient vegetal species. Not to be missed are the Science's Funfair, the romantic Merry-go-round, Piazza Italia and Pinocchio. Children will also have the possibility to learn driving in the inner Interactive Driving School.
Italia In Miniatura's most famous attraction is Little Venice, an outstanding reproduction of the Grand Canal including the city's best monuments and lagoon. Tourists will have the possibility to pass under Rialto Bridge and finally reach the city's spectacular Piazza San Marco.
Most visited resorts
Rep. San Marino
Geographical Search
Search your hotel
Weather in Romagna
Real-time weather forecast
NEWSLETTER
Join our Newsletter to receive special proposals and last minute offers for your holidays!