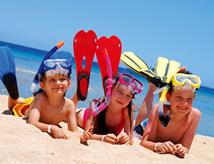 Children
If you are traveling with your little ones you will need hotels that specialize in a welcoming children's stay and have offers designed to help families save. This is possible in the Romagna Riviera because vacation packages for children are offered by many hotels that include amenities such as cribs, baby tubs, strollers, high chairs, as well as everything needed to prepare baby food, to allow parents to travel light. There is so much attention to children's needs even at mealtimes, which are available at flexible, stress free times and geared to our youngest guests.

Filter offers:
Most visited resorts
Rep. San Marino
Geographical Search
Search your hotel
Weather in Romagna
Real-time weather forecast
NEWSLETTER
Join our Newsletter to receive special proposals and last minute offers for your holidays!