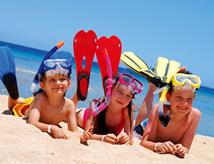 Children
If you are traveling with your little ones you will need hotels that specialize in a welcoming children's stay and have offers designed to help families save. This is possible in the Romagna Riviera because vacation packages for children are offered by many hotels that include amenities such as cribs, baby tubs, strollers, high chairs, as well as everything needed to prepare baby food, to allow parents to travel light. There is so much attention to children's needs even at mealtimes, which are available at flexible, stress free times and geared to our youngest guests.

Filter offers:
Reduction in price for children in room with the parent: A CHILD until 2 years old is applied -50% Children from 3 to 6 years old is applied -35% Children from 7 to 15 years old is applied -15% Price per day fullboard for the parent 30/5 -...

In June & September a CHILD until 6 years STAY FREE Many facilities are at our hotel for families: the beach right in front of hotel, for your comfort and fun children's playground on the terrace of hotel and on the...

All Inclusive June Family Hotel Rimini Offer Starting from € 44.00 per person per day Offer expiring 12/31/2019 !!! Hurry and book your promotion to the sea Special 3rd Week June from 13/06 to 21/06 Full Board Buffet 7 Nights starting...
Most visited resorts
Rep. San Marino
Geographical Search
Search your hotel
Weather in Romagna
Real-time weather forecast
NEWSLETTER
Join our Newsletter to receive special proposals and last minute offers for your holidays!