Aquafan
Via Ascoli Piceno, 6
47838 Riccione (Rn)

Tel. 39 0541 603050
Fax 39 0541 427101
info@aquafan.it

Aquafan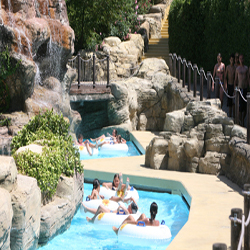 Aquafan is the most popular aqua park in Europe, and one of the most appreciated funfairs of the Riviera Romagnola. Situated on the top of Riccione's most famous hill, it covers a very huge surface. Exciting water chutes, large swimming pools and targeted children's attractions make Aquafan the ideal destination for people belonging to every age group.
Aquafan attracts large numbers of tourists from all over Europe, who flock to Riccione to visit its extraordinary aqua park. The city's hotels give guests the possibility to take advantage of special packages and promotions, such as the ones including accommodation and admission to Aquafan. Many accommodation facilities in Riccione and along the Riviera Romagnola are provided with special agreements with the park.
Aquafan is one of the most glamorous places of the Italian summer, and often launches new fashion trends. It often organizes amazing events, which attract many people and are able to create new styles. At the beginning of the Nineties, Aquafan's Disco - the fantastic Walky Cup which was managed by Linus and Radio Deejay, launched great personalities, such as Fiorello, Jovanotti and 883. Today, the most important event promoted by Aquafan is IKE International Kiss Event, an international underwater kissing competition that is broadcast by TV stations all over the world. Let's have a look at the major attractions of the park…
Aquafan's Attractions
Aquafan gives visitors the possibility to enjoy great fun opportunities. It gathers exciting water chutes and paths, as well as elegant wellness areas, large swimming pools, lush green areas and targeted children's attractions. Aquafan is able to suit even the most demanding requirements of different kinds of people.
Aquafan gathers exciting attractions that are able to suit the needs of those looking for thrilling emotions. Strizzacool is a long water chute to be covered onboard special four-seater rubber dinghies; Twist is made up of three 130-metre long interwoven pipes; Speedriul gives visitors the possibility to experience the sensation of being swallowed by a funnel together with their dinghy; Extreme River is a very steep water chute to be covered onboard a rubber dinghy. Not to be missed are the historical water chutes of the park: the so-called High Chutes, the popular Kamikaze, which was inaugurated by Alberto Tomba in the Nineties, Fiume Rapido, River Run, Surfing Hill and plenty of further attractions.


Aquafan is dominated by a large Wave Pool featuring high artificial waves that is the seat of the major entertainment activities and events of the park. It also hosts Poseidon, a kind of a thermal spring gathering several hydromassage jets and lakes. Not to be missed are the so-called Pista Schiuma, the park's nebulizers and Aquafan's splendid lush green areas.
Aquafan also hosts targeted children's areas and attractions. Cartoon Network Beach gathers four water chutes which develop around a splendid reproduction of Noah's Ark; Anctartic Baby Beach is an amazing reconstruction of a polar landscape which is dominated by a huge polar bear; the Elephant Swimming Pool gathers plenty of exciting water chutes which surround a funny pink elephant.
Most visited resorts
Rep. San Marino
Geographical Search
Search your hotel
Weather in Romagna
Real-time weather forecast
NEWSLETTER
Join our Newsletter to receive special proposals and last minute offers for your holidays!