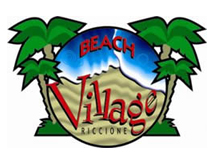 Beach Village
Lungomare V.le D'Annunzio 150
47838 Riccione (Rn)

Tel. 0541 640517
Fax 0541 664879
info@beachvillagericcione.it

Beach Village Riccione
Riccione Beach Village Aqua Park rises just in the heart of Riccione's beach, and extends over bathing establishments no. 134, 135 and 136. It is the only aqua park in the Riviera Romagnola that has direct access to the beach. Riccione Beach Village is a multipurpose facility gathering exciting attractions, funny entertainment activities and amazing night opportunities.

Beach Village gives visitors the possibility to take advantage of high-quality services and facilities. Young people can enjoy the park's exciting water chutes, while adults can sunbathe or enjoy the reinvigorating water of the park's salt water swimming pool. Children will have the opportunity to take advantage of well-equipped mini-clubs, games, attractions and funny educational labs.
Riccione Beach Village is crowned by the prestigious Opéra Chez Café, which is one of Riccione's most glamorous clubs. During the day, Opéra is a funny entertainment centre and recreational area, while at night it attracts thousands of young people looking for the utmost fun, and turns into a music bar, restaurant and cultural centre hosting shows, concerts and events. Let's have a look at the excellent services, facilities and attractions cherished by Beach Village...
Beach Village's Attractions and Events
Riccione Beach Village attracts both children, young people and adults, and is able to suit even the most demanding requirements of different kinds of visitors. The park is dominated by high water chutes, which can be seen from a distance. Kamikaze Water Chutes are the ideal attractions for the most daring ones, while Family Water Chutes are the ideal solutions for children.
Children will also have the possibility to take advantage of amazing mini clubs, which gather funny games and often arrange absorbing entertainment activities. Parents will have the possibility to lie down on the beach while sunbathing and to swim. Beach Village is also provided with a videogames area, modern beach courts, a hiring service for water sports, a snack bar and a wide car park.
Skilled entertainers always arrange amazing entertainment activities and events. Beach Village is also famous for the interesting initiatives it arranges for both children and young people, such as challenging sports tournaments and funny creative laboratories.

Most visited resorts
Rep. San Marino
Geographical Search
Search your hotel
Weather in Romagna
Real-time weather forecast
NEWSLETTER
Join our Newsletter to receive special proposals and last minute offers for your holidays!