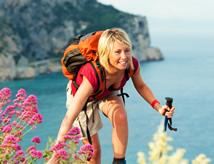 Holidays for sports enthusiasts
If you want to stay in shape even while on vacation in the Romagna Riviera you can find sports centers, tennis courts, soccer fields, basketball courts, sports on the beach and in the water, and the possibility to go climbing or paragliding inland, golf courses and much more, all relying on the support of hotels specializing in specific attention to the meals and needs of athletes.

Filter offers:
3-star hotel just 10 minutes from the Fiera di Rimini starting from € 44.00 We are ready for the new edition of the Rimini Wellness fair, now the most important national event for fitness, sport and wellness. From August 28 to August 31...

Moto GP Misano World Circuit offer for all motor fans from € 54.00 BB per person per day. They turn on the engines and we are ready to Offer you a chance to taste the championship total Relax !! Hotel Villa del Parco, 3 stars in Marebello...
Most visited resorts
Rep. San Marino
Geographical Search
Search your hotel
Weather in Romagna
Real-time weather forecast
NEWSLETTER
Join our Newsletter to receive special proposals and last minute offers for your holidays!