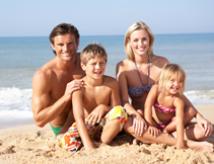 Families
For vacations with the whole family, the Romagna Riviera offers unforgettable offers in numerous facilities of every type. These types of deals are designed to offer very affordable rates as family plans where large discounts are available as well as free amenities for those who have more than one child. In addition, they include services such as the "mini-club" and the entertainment, both in the hotels and on the beach, the possibility to have babysitters available upon request and many accoutrements for little ones.

Filter offers:
Most visited resorts
Rep. San Marino
Geographical Search
Search your hotel
Weather in Romagna
Real-time weather forecast
NEWSLETTER
Join our Newsletter to receive special proposals and last minute offers for your holidays!