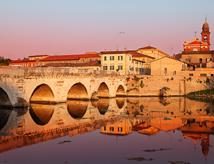 Cultural vacations
Known for its beaches and fun, Romagna has a historical and artistic heritage not known by all, but that in itself deserves attention. To learn about the ancient traditions, to discover the legends that lurk within the walls of its castles, to enjoy its countryside with hills and small villages you can choose one of the many hotel offers on the Adriatic Riviera with a cultural theme, often combined with food and tours.

Filter offers:
Most visited resorts
Rep. San Marino
Geographical Search
Search your hotel
Weather in Romagna
Real-time weather forecast
NEWSLETTER
Join our Newsletter to receive special proposals and last minute offers for your holidays!