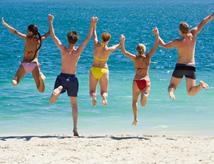 August
If you're among those who go on vacation in August, all you have to do is to first grab the best offers available to spend the hottest month of the year in the Romagna Riviera. To take advantage of the most affordable rates in August and not risk settling for whatever rooms are left, you must book ahead. This is the only way that you will be able to select the facilities and type of vacation that you really want, and choose from a wide range of hotels in all categories.

Filter offers:
Most visited resorts
Rep. San Marino
Geographical Search
Search your hotel
Weather in Romagna
Real-time weather forecast
NEWSLETTER
Join our Newsletter to receive special proposals and last minute offers for your holidays!