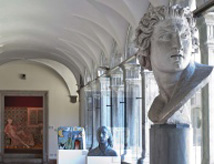 Museums in the province of Ravenna
The important artistic city of Ravenna, the so-called mosaic capital of the western world, is an outstanding open-air museum. Both Ravenna and its province give visitors the possibility to undertake enchanting tours amidst wonderful museums and art collections, as well as to gain information on the history, art, culture and traditions of these lands.
Museums in Ravenna and its province

MAR - Ravenna's Art Museum

Surrounded by the so-called Loggetta Lombardesca and hosted inside the cloister of the sixteenth-century Abbey of St. Maria in Porto, it gathers more than 300 artworks, paintings and sculptures which date back to the period comprised between the XIV and the XX century. Over the course of the past 50 years, the municipal picture gallery has acquired important artworks which were realized by the major exponents of Italian art. The museum is also home to a special section dedicated to modern mosaic, that gathers precious artworks realized by great contemporary artists.

For further information:
Ravenna - via di Roma, 13
Tel. 0544 482477/482356
info@museocitta.ra.it


Domus of Stone Carpets

One of the most important archaeological sites in Italy, it includes precious structures which date back to the period comprised between the III century B.C. and the Byzantine Age. One of the most famous buildings it hosts is a VI-century Byzantine Palace whose 14 bedrooms are all carpeted with splendid mosaic floors. The so-called Stone Carpets were totally restored, and are now open to the general public who can visit them in the dungeons of the Church of St. Eufemia.

For further information:
Ravenna - via Barbiani (Church of St. Eufemia)
Tel. 0544 32512
info@ravennantica.it


Ravenna's National Museum

It is hosted inside the cloisers and spaces of the former Benedictine monastery of St. Vitale and gathers an important epigraphic museum, precious remains dating back to different ages and a prestigious art collection gathering useful items and tools which were realized by Classe's Camaldolese Monks.

For further information:
Ravenna - Via Fiandrini
Tel. 0544 34424
sbap-ra.museonazionale@beniculturali.it

Small Dolls and Toys Museum

Situated just in the heart of the city centre, Ravenna's Small Dolls and Toys Museum is hosted inside a sumptuous fourteenth-century building. Apart from gathering different kinds of dolls which were produced between 1850 and 1950, it also hosts miniature settings including small objects, furniture and stylish decorations. The museum also gathers a rich collection of vintage toys, such as rocking horses and small cars, and a targeted children's library gathering newspapers, magazines and books that were printed more than one century ago.

For further information:
Ravenna - via Marco Fantuzzi, 4 (Rasponi Murat Palace)
Tel. 335 6067703
info@museodellebambole.it


International Museum of Faenza's Ceramics

This museum, which was founded more than 100 years ago, fa, gathers wonderful examples of Faenza's ceramics, as well as precious national and international artworks. The museum's collections gather precious prehistoric, classical, pre-Colombian, African and Oriental ceramic works, as well as many wonderful contemporary artistic masterpieces.

For further information:
Faenza - Via Campidori, 2
Tel. 0546 697311
info@micfaenza.org

MUSA. Salt Museum – Cervia
This incredible exhibition illustrates the history of Cervia's Salt Pans through the description of the extractive processes and the display of dedicated tools, artefacts, pictures and projections.

For further information:
Cervia - Via Nazario Sauro 24 (Salt Warehouses)
Tel. 0544 977592
musa@comunecervia.it
Most visited resorts
Rep. San Marino
Geographical Search
Search your hotel
Weather in Romagna
Real-time weather forecast
NEWSLETTER
Join our Newsletter to receive special proposals and last minute offers for your holidays!