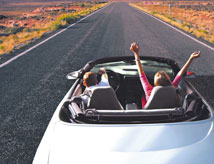 How to reach Romagna
How to reach Romagna, information on transport and services for those interested in spending their holidays along the Riviera Romagnola.
How to reach Romagna
How to reach Romagna by train

Romagna is crossed by a thick and efficient railway network that connects all the cities of Via Aemilia and the major resorts of the Adriatic Coast. Rimini is located just in the heart of the network, and is home to one of the most important railway stations of the Adriatic Coast.

Rimini's station, which gathers both Eurostar, Intercity and Regional trains, is the major junction of the national railway network. It gives travellers the possibility to reach both important southern destinations, such as Ancona, Pescara, Foggia, Bari and Lecce, and northern centres, such as Bologna, Milan, Florence and Venice.
Romagna also boasts excellent regional connections, and the main provincial capitals are all connected with each other: Rimini, Cesena, Forlì, Ravenna. Not to be missed are the regional trains that run across the major seaside resorts of the Riviera. They depart from Rimini and connect the southern centres (Cattolica, Riccione, Misano…) with the northern lidos (Cervia, Cesenatico, Lidos of Ravenna…).
For further information on Romagna's railway network, visit the official website: www.ferroviedellostato.it


How to reach Romagna by plane

Romagna gathers two main airports: Forlì Airport and Rimini Airport. Below is a detailed description of the main services and facilities offered by Forlì Airport. For more information on Rimini Airport, display the dedicated description (link at the bottom of the page)
Luigi Ridolfi Airport Forlì
Luigi Ridolfii Airport is one of the most thriving airports of Emilia-Romagna. Situated south of Forlì, a short distance from the tollgate of A14 Motorway, it gives tourists flocking to the Riviera Romagnola the possibility to take advantage of excellent services and facilities.
It is connected with the local railway station through the thriving Aerobus transfer service. Furthermore, tourists flocking to the Riviera Romagnola will have the opportunity to enjoy the excellent bus connections with Cervia and Cesenatico arranged by Taximinibus Cervia an Cesenatico Transfert.
For further information on Luigi Ridolfi Airport in Forlì, visit the official website: www.forliairport.com


Tourist Harbours Riviera Romagnola
The Riviera Romagnola is scattered with important tourist harbours, that attract large numbers of both sea lovers and boat owners. The main tourist harbours are: Marina di Ravenna, Cervia-Milano Marittima, Cesenatico, Rimini, Riccione, Portoverde and Cattolica.
During summer, the harbours of Marina di Ravenna, Cesenatico and Rimini are provided with excellent catamaran connections with Croatia that are sponsored by Emilia Romagna Lines. This way, those flocking to the Riviera Romagnola will have the possibility to make outstanding day cruises around Croatia.
How to reach Romagna - More:

Federico Fellini Airport Rimini and Republic of San Marino
Most visited resorts
Rep. San Marino
Geographical Search
Search your hotel
Weather in Romagna
Real-time weather forecast
NEWSLETTER
Join our Newsletter to receive special proposals and last minute offers for your holidays!