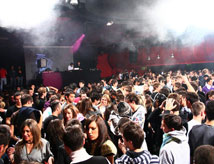 Discos Rimini
Discos and clubs Rimini, information and contacts. Detailed information on the discos of both the sea front and the hinterland.
Discos Rimini
Rimini
is one of the most popular capitals of night life in Europe. Since the 60s, its discos have contributed to the extraordinary development of the history of Italian fun.
The city's sea front, that is embellished by plenty of spectacular light and colour effects, is scattered with amazing pubs and clubs that give tourists the possibility to dance and run wild at night. Both the city centre and the surrounding area are scattered with a dazzling array of exclusive discos and clubs: Altro Mondo, Blow Up, Bounty, Carnaby, Coconuts, Gotha, Chic, Life, Turquoise, Monamour, Rock Island and many more…
Rimini's surroundings are peppered with plenty of historical discos, such as Mecca, Velvet Club and Paradiso, the latter being situated amidst Covignano's lush green hills.


007 Dancing
Via Mantova, 31
Rivazzurra di Rimini
Tel. 0541 373398
Altro Mondo Studios
Via Flaminia, 358
Rimini
Tel. 335 5645740
Blow Up Disco
Viale Regina Elena, 209
Rimini
Tel. 0541 386060
Bounty Disco Pub Restaurant Pizzeria
Via Weber, 6
Rimini
Tel. 0541 391900
Buenaonda
Lungomare di Vittorio, 35
Bellariva di Rimini
Carnaby Club
Viale Brindisi, 20
Rimini
Tel. 0541 373204
Classic Club (Adults only)
Via Feleto, 15
Rimini
Tel. 0541 731113
Coconuts
Viale Tintori, 5
Rimini
Tel. 0541 24422
Chic
Via Regina Margherita, 83
Marebello
Tel. 0541 374304
Embassy Club (Tantra)
Viale Vespucci, 33
Rimini
Tel. 0541 23934
Gotha Discobar
Via Regina Margherita, 52
Rimini
Tel. 0541 478739
Io Street Club
Viale Vespucci, 77
Rimini
Tel. 0541 1904216
Life Club
Viale Regina Margherita, 11
Rimini
Tel. 0541 373473
Melody Mecca - Ecu
Via Feleto, 171
Rimini
Tel. 0541 731105
Monamour Disco & Dancing
Via Principe di Piemonte, 28/30
Rimini
Tel. 0541 373434
Paradiso Club
Via Covignano, 260
Rimini
Tel. 0541 751132
Pestifero
Via Schubert, 5
Rimini
Tel. 0541 24422
Rock Island
Molo di Levante – Piazza Boscovich
Rimini
Tel. 0541 50178
Tiki Beach Bagno 26
Piazzale Kennedy
Rimini
Tel. 0541 27058
Turquoise Beach Club
Viale Lungomare Tintori, 6
Rimini
tel.0541 1995897
Velvet Club
Via Sant'Aquilina, 21
Rimini
Tel. 0541 756111
Most visited resorts
Rep. San Marino
Geographical Search
Search your hotel
Weather in Romagna
Real-time weather forecast
NEWSLETTER
Join our Newsletter to receive special proposals and last minute offers for your holidays!