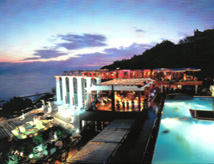 Discos Cattolica
Discos and clubs in Cattolica: Le Navi Park, Portoverde and Gabicce Monte.
Discos in Cattolica and Gabicce Monte
Cattolica is one of the most popular summer destinations of Romagna. Its night life revolves around the large area that surrounds Le Navi Park and the city's Aquarium.
Cattolica's most famous clubs are Malindi Beach Cafè and Bikini Disco. Walking down the mouth of the river Conca, it is possible to reach the exclusive resort of Portoverde and Misano's municipality, and visit plenty of famous clubs like Zenzero.
Gabicce Mare, that is situated a short distance from Cattolica, is home to one of the most exclusive and beautiful discos of the Riviera Romagnola, the enchanting Baia Imperiale. Known all over Italy for its outstanding furnishings and spectacular settings, it often arranges amazing parties that are livened up by internationally renowned DJs.
Baia Imperiale
Via Panoramica
Gabicce Mare (PU)
Tel. 0541 950312
Bikini Disco Dinner
Piazzale delle Nazioni – Le Navi Park
Cattolica (RN)
Tel. 335 224458
Malindi Beach Cafè
Piazza Delle Nazioni, 1 (Le Navi Park)
Cattolica (RN)
Tel. 0541 831650
Zebra Square
Via Facchini, 14
Cattolica (RN)
Tel. 0541 967007
Most visited resorts
Rep. San Marino
Geographical Search
Search your hotel
Weather in Romagna
Real-time weather forecast
NEWSLETTER
Join our Newsletter to receive special proposals and last minute offers for your holidays!