PONTE 1 MAY IN RICCIONE OFFER 3 STAR HOTEL WITH FREE CHILDREN AND FUN PARKS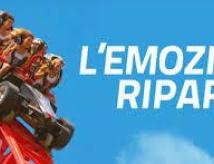 Valid from: 22/04/2023
Valid to: 25/04/2023
Treatment: All Inclusive
Price: from: € 40 per person, 2 nights
Terms and conditions: Offer Hotel 3 Stars Riccione Bridge May 1 All Inclusive packages with amusement park tickets
Ask for a quotation >
PONTE 1 MAY IN RICCIONE IN HOTEL 3 STARS WITH CHILDREN FREE!
The Bridge of May 1
is the perfect opportunity to organize a weekend out of town and to carve out a few days of vacation in Riccione that awakes with the summer!
Choose
Riccione and Hotel San Marino
, a cozy 3 Star Hotel with
Free Children
,
for the 1st of May Bridge
: they are the perfect combination for a pleasant stay between relaxing walks on the beach or along the streets of the center, an exquisite lunch on the sea, trendy shopping, delicious aperitifs in trendy bars, and evenings in the renowned nightclubs of the Romagna Riviera!
The
Bridge of May 1 in Riccione
is a wonderful opportunity to visit the
Amusement Parks
of the Adriatic coast: in a few minutes drive you will reach Oltremare, the Cattoica Aquarium, Fiabilandia, Iltalia in Miniatura and Mirabilandia!
Take advantage of our
All Inclusive Packages
with Free Amusement Parks Tickets!
OFFER ALL INCLUSIVE BRIDGE FIRST MAY RICCIONE
(offer valid from 27 April to 02 May 2018)
PACKAGE - 2 NIGHTS: € 99.00 per person
PACKAGE - 3 NIGHTS: € 129.00 per person
PACKAGE - 4 NIGHTS: € 149.00 per person
ALL INCLUSIVE PACKAGE + FREE AMUSEMENT PARK

PACKAGE - 2 NIGHTS + PARK: € 119.00 per person
(All inclusive formula + 1 free park ticket)
PACKAGE - 3 NIGHTS + PARK: € 149.00 per person
(All inclusive formula + 1 free park ticket)
PACKAGE - 4 NIGHTS + PARK: € 169.00 per person
(All inclusive formula + 1 free park ticket)
1 MAY OFFER FOR FAMILIES WITH CHILDREN FREE:
1 ° CHILD FREE
up to 5 years (in room with 2 adults)
Second child 3 - 15 years 50% discount
1 ADULT + 1 CHILD
0-15 years in a double room 30% discount
BRIDGE FAMILY PLAN 1 MAY
: 2 + 2 = 3:
2 adults + 2 children in the same room pay only 3 units
At the
Hotel San Marino, the 1st of May Bridge
will satisfy all mothers, even the most demanding ones: our kitchen staff will carefully prepare fresh vegetable broth, vegetable soup and tasty baby menus for all children!
Mothers can finally relax and rest for the whole stay!
YOUNG BRIDGE OFFER 1 MAY
4 boys in QUADRUPLE ROOM = 3 paying
ALL INCLUSIVE PACKAGES FOR THE 1 MAY PONTE INCLUDE:


Appetizer


Tasty breakfast with homemade cakes and savory corner


Full board with excellent choice of meat and fish menus


Fresh homemade pasta


Drinks are not allowed at meals


Packed lunch for your excursions


Romagnola evening


Animation and Miniclub for children


Free Wi-Fi Internet connection throughout the hotel


Private parking


Bicycles with Seats available for pleasant rides along the seafront


FOR YOUR CHILDREN


Welcome surprise


Baby menu also for babies with flexible hours


High chairs and equipment suitable for their little hands


Animation


Kids area with lots of games


Afternoon snack


DVD room


Strollers service


Trucca children


Cotton candy


Karaoke


Baby dance


Cinema and popcorn evening


And in your room for your comfort and your children you can request many other small attentions:


The camping cot


The bed rails


Bottle warmer


Bathtub


WC reducers


Non-slip sink ladder


And also ..... PONTE PACKAGES 1 MAY WITH FREE FUN PARK:


Free ticket for one of the amusement parks to choose from: Oltremare, Italy in Miniature, Cattolica Aquarium and Fiabilandia.


For the Mirabilandia ticket you need a supplement of € 5.00.


* Rates do not include the Tourist Tax of € 1.50 per day per adult over the age of 14 *
Contact us using the form below to get more information or receive a free personalized quote:
[FORM_RICHIESTA_INFORMAZIONI]
Request information about this offer! »
Most visited resorts
Rep. San Marino
Geographical Search
Search your hotel
Weather in Romagna
Real-time weather forecast
NEWSLETTER
Join our Newsletter to receive special proposals and last minute offers for your holidays!