Via Marebello, 1
47924 Marebello (Rn)
Annual opening

Summer Rimini Offer Hotel with Pool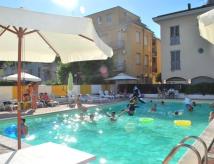 Valid from: 01/07/2018
Valid to: 31/07/2018
Treatment: Bed & Breakfast
Price: from: € 31 per person, 5 nights
Ask for a quotation >
July Offer!
Lady Hotel has so many new features for you, Hotel BB n ° 1 in Rimini !!

Always ready to impress you for your holiday at the Sea , in Fmaiglia, with friends, in pairs ...



& News

- Private pool

- Swimming Pool Parties and Evenings

- Baby Club & Kids Animation

- Beach Service with Water Park

- Parking space available



Offer Valid from 01/07 to 31/07

from € 31,00 per person per day



5 Nights from € 155.00

6 Nights from € 186.00



- Rich breakfast with Sweet Homemade cakes

- Newspapers every morning

- Free Water Park Entrance

- Free Wi-fi

- Air conditioning

- Free bikes to relax by the sea



lE nOsTrE cAmErE

They are dedicated to famous female characters who have made the history of music and cinema a homage to femininity that echoes throughout the hotel.

The rooms are functional and comfortable and all come with air conditioning , private bathroom with shower and hairdryer, TV, telephone, free Wi-Fi, safe and balcony.



Our services

Tasty breakfasts with homemade cakes, Pool Party Parties (spaghetti, chocolate, nutella party), free Wi-fi in Room, Shower Box & Air Conditioning .

Beach Dining, Parking On Request.

Possibility to welcome 4-legged friends.
We hope many of you will come!!!
Call us +39 0541 478462
Cell +39 333 5680226
o Write to us at info@hotellady.com
Request information about this offer! »
Most visited resorts
Rep. San Marino
Geographical Search
Search your hotel
Weather in Romagna
Real-time weather forecast
NEWSLETTER
Join our Newsletter to receive special proposals and last minute offers for your holidays!