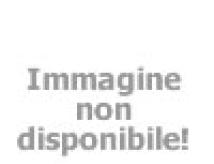 Hotel Villa Alberta -
Rimini
Viale Enna, 4
47924 Rimini (Rn)
Annual opening

DESCRIPTION
Hotel Villa Alberta is located in front of the sea in Rimini, 100 metres away, in a convenient area to reach the theme park Italia in Miniatura and the Rimini Fair. The hotel is open all year round and is therefore suitable for both leisure and business travellers.

Among the services offered by the hotel are the private beach, restaurant, bar and free Wi-Fi.
A full menu is offered at the restaurant, as well as an abundant breakfast in the morning.
The cuisine of the restaurant offers typical Mediterranean and local dishes.

The beach of the hotel is equipped with umbrellas, sun loungers, games, sports fields and every convenience for the family. Children can play in the 400 m² playground, while for adults there is a nice outdoor gym.

From Hotel Villa Alberta, it is also easy to reach the historic centre of Rimini and enjoy all the attractions of the city centre.

The hotel bar is the perfect place to relax with a refreshing drink.
The hotel's offerings are rounded off by an always open reception desk, air-conditioned rooms with balcony, TV, private bathroom and air conditioning.

Services
Hotel Services
Room Services
Most visited resorts
Rep. San Marino
Geographical Search
Search your hotel
Weather in Romagna
Real-time weather forecast
NEWSLETTER
Join our Newsletter to receive special proposals and last minute offers for your holidays!