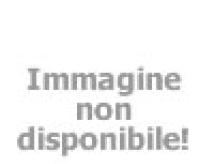 Hotel Sanremo -
Milano Marittima
Via VIII Traversa a mare, 21
48015 Milano Marittima (Ra)


DESCRIPTION
Hotel Sanremo is a comfortable 3-star property situated only twenty meters from the beach of Milano Marittima, easily reachable without crossing the road. An ideal position especially for families who travel with children that can safely head to the sea. A short walk from the hotel are also the town centre and the century-old pine forest which provide guests with a relaxing yet entertaining stay.
Run passionately and professionally by the Bezzi family since 1955, Hotel Sanremo offers refined environments and family-friendly services. Air conditioned and heated, it features welcoming and functional common areas such as the air-conditioned hall with bar, tv room, children's playground, indoor veranda and garden so that you can enjoy moments of leisure with your family or friends.
The 26 rooms of Hotel Sanremo, recently renovated and tastefully furnished, are provided with bathroom with shower box and hair dryer, sat tv, safe deposit box, telephone, air conditioning/heating system, and a sea-view balcony available on request. Here guests will find double, triple or quadruple rooms and 2 apartments made of 2 double and communicating rooms with balcony.
Flagship of the hotel is its family-run restaurant which prepares regional, Italian and international dishes cooked with a modern twist. The utmost attention is paid on ingredients, always fresh and healthy and on the preparation on tasteful yet balanced menus ready to meet even the most demanding palates. The day kicks off with a delicious American-style buffet breakfast served in our veranda/garden. At lunch and dinner time guests will be able to choose from tasteful buffets of vegetables and starters, homemade pasta, a triple meat or fish menu available on a daily basis, fruit, desserts and unlimited drinks which are included in the price besides a wide array of local and national brands. On request we also prepare customized menus for children.
The Hotel has also a beautiful pool heated at 27° for adults and children with a Jacuzzi corner to enjoy some moments of relaxation and wellness.
A parking lot able to accommodate 20 cars, an elevator, Wifi connection all around the hotel, a baby sitting service and laundry available at an extra fee are also part of the comforts Hotel Sanremo makes available to its guests.

Price List
CONDIZIONI 2017
Prezzi di pensione completa al giorno per persona (minimo 3 giorni). A partire da 54,00 Euro
Per i bambini fino a 5 anni in stanza con 1 o 2 adulti l'albergo ha disposto PROMOZIONI SUPER, contattateci !
La camera e l'eventuale posto auto sono a disposizione dalle ore 12:30 del giorno d'arrivo alle ore 10:00 del giorno di partenza.
SPIAGGIA INCLUSA (minimo 6 giorni): Gratis 1 ombrellone e 2 lettini (escluse le prime 3 file), uso telo mare e cabina per ogni adulto a prezzo intero.
PIANO FAMIGLIA (minimo 6 giorni): 4 persone = 3 paganti con 2 bambini da 6 a 14 anni.
I prezzi in pensione completa comprendono: IVA, servizio, bevande (acqua,vino,succhi) ai pasti, prima colazione con buffet all'americana, pranzo e cena con 3 menù a scelta, buffet di verdure, uso del telo mare e della cabina in spiaggia.
Tassa di soggiorno esclusa.

RIDUZIONI
SCONTO TERZO/QUARTO LETTO:
Bambini dai 6 ai 12 anni 50% di sconto sui prezzi di listino.
Ragazzi dai 13 ai 17 anni 30% di sconto sui prezzi di listino.
Adulti 10 % di sconto sui prezzi di listino.
Riduzione mezza pensione: 5 euro al giorno.

SUPPLEMENTI
Supplemento aria condizionata: 4 euro per camera.
A richiesta: appartamentini con 2 camere, 1 bagno e 1 balcone.
Services
Hotel Services
Room Services
Most visited resorts
Rep. San Marino
Geographical Search
Search your hotel
Weather in Romagna
Real-time weather forecast
NEWSLETTER
Join our Newsletter to receive special proposals and last minute offers for your holidays!