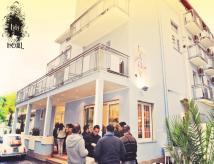 Via Marebello, 1
47924 Marebello (Rn)
Annual opening

September at Sea, Offer Hotel BB with Swimming Pool
Valid from: 01/09/2018
Valid to: 24/09/2018
Treatment: Bed & Breakfast
Price: from: € 20 per person, 4 nights
Ask for a quotation >
Sun & Relax ... the Summer is Still Here ...
SPECIAL MARE in September !!!



Book 4 days in September and Lady Hotel gives you free admission Private Pool !!!



Offer September Rimini

Valid from 01/09 to 24/09





LADY LOVES SUMMER



bed and breakfast

private pool

double bedroom with balcony

welcome drink

Baby Clubs and Kids Animation

free wi-fi in room too

autonomous air conditioning



starting from Euro 20,00 per person
Our rooms
The rooms are dedicated to famous female characters who have made the history of music and film, a tribute to femininity that echoes in environments around the hotel.The rooms they are functional and comfortable and are all equipped with air conditioning, services private with phon, tv, telephone, free Wi-Fi, safe and balcony.
Lady Hotel's staff awaits you many !!!
Contact Us Now
+39 333 5680226
+39 0541 478462
or info@hotellady.com
Request information about this offer! »
Most visited resorts
Rep. San Marino
Geographical Search
Search your hotel
Weather in Romagna
Real-time weather forecast
NEWSLETTER
Join our Newsletter to receive special proposals and last minute offers for your holidays!