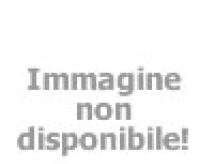 Hotel Sorriso -
Lido Di Classe
Via Fratelli Vivaldi, 33
48125 Lido Di Classe (Ra)


Family Offer with child free
Valid from: 20/05/2017
Valid to: 24/09/2017
Treatment: All Inclusive
Price: from: € 68 per person, 1 night
Terms and conditions: Last Minute September
Ask for a quotation >
Hotel
on the sea
with
panoramic swimming pool, play area
for the child and
Open Bar !

Last free room in September!
from € 68
per day per person in All Inclusive + open bar
Book now your holiday with the best price and a relaxing time for you and your family. Contact us for a personalized offer:
info@hotelsorriso.net
Family offer in September:
September Offer in a Sorriso room with 2 adults:
from 2 until 9.9:
1 CHILD FREE
until 10 years (min. 3 days)
from 10 until 24.9:
2 CHILDREN FREE
until 15 years (min. 5 days)
Maxi convenience with the
All Inclusive
which includes unlimited drinks and served at the table,
OPEN BAR
with soft drinks free from 9 until 24 hours, umbrellas and sun loungers on the beach opposite the hotel, and all of our free services, such as WiFi, parking, air conditioning, large play room, use of heated rooftop pool, bicycles, etc ...Takes advantage of the promotion, and live the summer with Smile!
Many services are designed for our younger guests:
* Customizable menus and flexible meal times;
* Rails, cots, bath tubs in the room;
* Seats, cutlery, table linen, etc ... at the table
* Scrupulous attention by all the staff.
Come and live in person experience a "built around you"
Request information about this offer! »
Most visited resorts
Rep. San Marino
Geographical Search
Search your hotel
Weather in Romagna
Real-time weather forecast
NEWSLETTER
Join our Newsletter to receive special proposals and last minute offers for your holidays!