Hotel Caraibi -
Rivazzurra
SEPTEMBER HOLIDAY IN RIMINI WITH OUR PETS NEAR THE SEA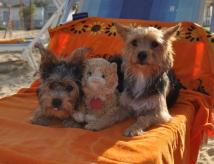 Valid from: 01/08/2016
Valid to: 31/08/2017
Treatment: All Inclusive
Price: from: € 459 per person, 7 nights
Ask for a quotation >
Choose 6 or 7 days Offer Hotel + Beach equipped for pets
OFFER STAY WITH PETS

ON HOLIDAY WITH OUR ANIMAL, you can take it also on the beach



This year you have a good reason to spend your holiday at Hotel Caraibi: you can bring with you your pets without paying any supplement!!

So do not leave home your little friend and come to spend a relaxing vacation!

The Staff Caraibi will welcome you with all his sympathy, they expect:

animation, welcome drink, entertainment and tasty dishes of local cuisine

and much more!!!

Choose All treatment Inclusive..the beach is equipped to accommodate even our four-legged friends!!



September 4 to 11

7 nights Full board from € 269 per person



7 nights All Inclusive from € 319 per person

Discounts for children- family plan



September 11 to 17 Child Free

6 nights Full board from € 219 per person



6 nights All Inclusive from € 265 per person





The ALL INCLUSIVE PACKAGES include:



-Full board with buffet breakfast

- 5 meat or fish menus of your choice

- Vegetable buffet

- Fruit, dessert or ice-cream for lunch and dinner

- Fish dinner

- Dinner with aperitivo and music characterized by the typical flavors from Romagna

-Unlimited bottled beverages during meals with table service (water, wine, beer, coca cola ecc...)

-

- Beach Service:umbrella and 2 beach loungers per room

- Children games

- Table football

-Entertainment for adults and children

- Mini Cluband Baby Dance

-Kitchen for mothersequipped with fridge, stoves and microwave

-

- Free admission to the water park

- Free bicycles available

- Free wi-fi internet connection



Hurry up! Contact us to receive further information and enjoy unforgettable moments together with your beloved pets!
Request information about this offer! »
Most visited resorts
Rep. San Marino
Geographical Search
Search your hotel
Weather in Romagna
Real-time weather forecast
NEWSLETTER
Join our Newsletter to receive special proposals and last minute offers for your holidays!