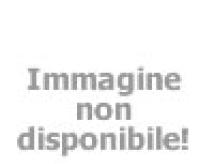 Hotel Dom -
Milano Marittima
DESCRIPTION
Emotion Hotel Group conquers Milano Marittima with Dom, the first Just Bed Hotel. A brand new formula offering low-cost rates all the year round, during both the high and low season.
What makes this hotel so special, apart from its rates, is the high quality and exclusivity of the services provided letting guests enjoy a freedom-filled holiday discovering the surrounding inland.
Dom Hotel is plunged inside Milano Marittima's pine grove, only 100 meters from the sea. Right next to the centre and bus station which provide great connections to Romagna's main places of interest such as Cervia and its salt pans, Ravenna with Mirabilandia or the medieval town of Cesena.
The hotel offers different types of rooms: from singles suitable for lone travelers, to family rooms hosting 6 beds which get even more convenient with our Xtra Bed & Convenience plan.
All rooms are equipped with ceiling fan, Sat Tv, balcony, shower box, hairdryer, centralized safe deposit box and private bathroom.
Every morning, you will be welcomed in Dolce Vita room where a fantastic Italian-style breakfast including pies, tarts and coffee will be served whereas at evenings you will relax sampling a selection of herbal teas, infusions and biscuits from the goodnight buffet.
Another wonderful room of Dom Hotel is Cyber Point, used to socialize and have fun playing with board games, billiard, ping pong or connecting to the Wifi to stay updated on social networks.
Dom Hotel is also a Pet Friendly Hotel where our four-legged friends will always be accepted for free both in the high and low season.
Services
Hotel Services
Room Services
Most visited resorts
Rep. San Marino
Geographical Search
Search your hotel
Weather in Romagna
Real-time weather forecast
NEWSLETTER
Join our Newsletter to receive special proposals and last minute offers for your holidays!